ePlusMenuCAD 10 RC1 – New Release
Good thing is that CsanyiGroup (author of ePlusMenuCAD) has prepared great price for RC1 – 150EUR or $198, which is double less than earlier version 9. By purchasing licence for ePlusMenuCAD 10 RC1 you will get complete version (when released) for free. When complete version come out, price will be like before 290EUR or $38.
Read the full story at EEP – Electrical Engineering Portal
ePlusMenuCAD 10 Changes: (2010/10/24)
- Full support for AutoCAD 2011 and AutoCAD 2010
- Everything translated to english language
- A complete and easy layer and the symbols control in ePlusMenuCAD-in (color, line width, plot…)
- All layer's color are changed to BYLAYER, instead to specific color (easier for manipulate)
- Completely new layers for all symbols (E-Power-Supply-Sub-Main, E-Power-Enclosure…)
…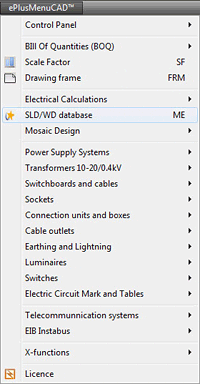 Be nice and share this article with others! How to use all these nice buttons?